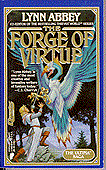 The Forge of Virtue
"Four young adventurers: Lord Ironhawk's son Jordan Hawson, beautiful Althea, a headstrong blacksmith named Drum, and Jordan's kid brother Squirt heed a mystic globe's dark warning to find Balthan, Althea's magician brother. It is a quest that will take them through the perils of trolls, harpies, and gypsies until they discover the mission is far more crucial than they ever imagined. A vast evil has sunk its claws into Britannia. Lord British's ruling Council of Mages is in hiding, its members marked for death. And only the elusive Balthan knows the truth behind it all."
Publisher: Questar Fantasy.
Author: Lynn Abbey and Richard Garriott, © 1991.
ISBN: 0-445-21065-6.
Characteristics: 312pp. Paperback.
Original List Price: $4.50
Availability: Bookstores, by order.
This book is still in print, and can be ordered at your local bookstore. "Questar Fantasy" is now called Warner Aspect, a division of Warner Books.