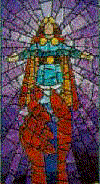 Ultima IX poster
Publisher: Origin Systems, Inc., © 1996.
Artist: ?
Characteristics: Large poster of presumably the Ultima IX: Ascension cover art.
Availability: Conventions?
This poster, of which a portion is shown here, shows a stained glass window with images of the Avatar and the Guardian's hand, along with various other Ultima icons, such as ankhs, the virtue symbols, and so on. It was shown by Origin at DragonCon '96 in Atlanta. I assume this will be the Ascension cover motif.