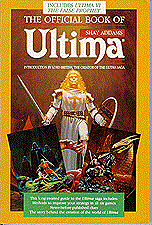 The Official Book of Ultima
"What do chivalry, the Dead Sea scrolls, Paul McCartney, The Wizard of Oz, Monty Python, Stonehenge, and NASA have in common? They're all part of Ultima, the internationally best-selling series of computer role-playing simulations from ORIGIN Systems. Now, for the first time, you'll learn the inside story of these remarkable adventures and the people who created them in The Official Book of Ultima from COMPUTE! Books."
Publisher: COMPUTE! Publications Inc., © 1990.
Author: Shay Addams.
ISBN: 0-87455-228-1.
Characteristics: 244pp. Includes information and history about Ultima, with walkthroughs and maps for Ultimas I-VI.
Original List Price: $14.95
Availability: None.