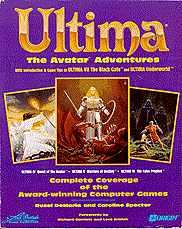 Ultima:
The Avatar Adventures
"It reads like a novel, but it's the cold hard truth! Here, for the first time, is the real story behind the man from Earth who became the Avatar of Britannia!"
Rusel has written a number of other game books for Prima. He is also included as a character in Black Gate, where this book gets a brief plug.