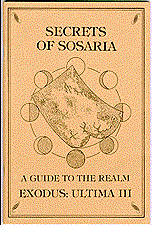 Secrets of Sosaria:
A Guide to the Realm, Exodus: Ultima III
Publisher: Origin Systems, Inc., © 1983-1987.
Author: The back lists "Lord Robert" as actually bringing the work to the reader; Lord Robert is Robert Garriott, Richard's brother.
Characteristics: 48pp. Contains maps and hints for Ultima III.
Original list price: $12.95
Availability: None.
There are two different printings of this hintbook, one from 1983, and one from 1987. My copy of this hintbook is the latter, and was published after the hintbook for Ultima IV. I know this from the 1987 copyright date, and the address listed on the back - 136 Harvey Road. Origin didn't move its headquarters to this address until after Ultima IV was published. The '83 version has a different copyright date and the old 340 Harvey Road address, and that appears to be the only difference.