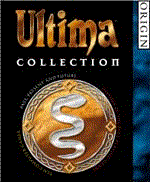 Ultima Collection
Platform: Win95.
Publisher: Origin Systems, Inc., © 1998.
Characteristics: UPC 14033-10503. CD (1).
Included: Manual/Installation Guide (47pp.), Atlas (16pp.)
Original List Price: $34.95
Availability: Electronic Arts.
Origin released this collection of the original, cardinal Ultima games on February 17, 1998. The games themselves are identical to those released in previous compilations - right down to the same planet files being messed up for Ultima II as on the I-VI collection. No modifications to the games were made, not even bugfixes. The game Akalabeth has been ported to the PC especially for this collection - the only PC version of Akalabeth that has ever been "officially" released. The atlas contains what I've heard quoted as "grainy photocopies" of the original maps, difficult to read or use. The collection does have some improved installation routines for Windows 95 users, and the CD contains a brief sneak-preview sequence from the game Ultima: Ascension, and some video interviews with Richard Garriott. Also, all of the original documentation has been ported into Windows Help format, complete with the original graphics, which is nice.

All in all, this product is a mixed bag - a few new things, but as for the original games themselves, not much going for it. And at $34.95 direct from EA (more in most retail venues), unless you're new to the Ultima series or otherwise couldn't find copies of the older games, there's isn't much incentive to pick this product up.