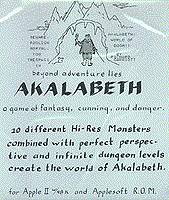 Akalabeth
Platform: Apple II.
Publisher: Richard Garriott, © 1979. Graphics by Keith Zabalaoui.
Characteristics: Cassette tape.
Included: Plastic bag; 8.5 x 11 "cover art" page; Instruction booklet (8 pp.); small 4"x4" card with "Akalabeth" artwork; 2 hand-drawn, xeroxed labels.
Original List Price: Unknown.
This is what Richard Garriott was selling at his local Computerland store in the summer of 1979. He bought some zip-lock baggies and made a couple dozen copies of some hand-done documentation, and started selling them there in the store. His manager sent one copy to California Pacific, and that, as they say, was that. Garriott says he only sold a dozen or so of these that summer. It goes without saying that if you have one of these, you can name your price. If, on the other hand, you're looking for one of these... good luck! Actually, I do know of at least three different people that have them. Of course, one of them is Richard Garriott himself... One of them picked it up for a couple of bucks at a local elementary school auction. Really. And the third is listed on the credits page for providing the lovely pictures you see here.