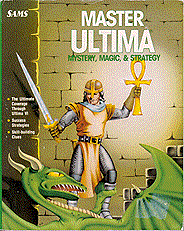 Master Ultima:
Mystery, Magic and Strategy
Publisher: SAMS, © 1991.
Author: Ralph Roberts.
ISBN: 0-672-22828-9.
Characteristics: Includes walkthroughs for Ultimas I-VI, an interview with Lord British, and other narrative info about the games.
Original List Price: $16.95
Availability: Bookstores, by order.
Mr. Roberts is a fairly prolific writer, having produced books on a great variety of subjects, ranging from the use of Emacs, to the history of Pepsi, to my favorite, the Mr. Potato Head cookbook.