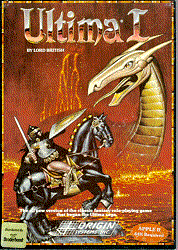 Ultima I
Remake by Origin
Platform: Apple II.
Publisher: Origin Systems, Inc., © 1980-1986.
Characteristics: UPC 17814-01181. 5.25" (1).
Included: First Age of Darkness book; player reference card; four cardboard maps; cloth bag containing five coins (1 "gold", 3 "silver", 1 "copper").
Original List Price: $39.95
Platform: Commodore 64.
Publisher: Origin Systems, Inc., © 1980-1986.
Characteristics: UPC ???. 5.25" (1).
Platform: PC.
Publisher: Origin Systems, Inc., © 1980-1987.
Author: Conversion by John Fachini.
Characteristics: UPC 17814-01294. 5.25" (1), 3.5" (1).
In 1986, Origin decided to rerelease the early Ultima games, starting with the first. They rewrote Ultima I in assembly language and updated the graphics, in addition to changing some of the towns, names, and puzzles in the game. (For example, "Dav's Pub" in Grey is named for remake project director Dav Holle.) They also ported this version to several platforms besides the Apple. This is the version that made its way into the Ultima collections that Origin released. Finding a separate copy of the Ultima I remake is difficult, but not nearly as much so as with the original versions. And it has nifty maps and coins that the original did not.