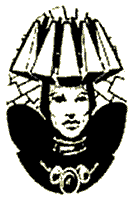 "The climax was the devastation of 2111, Minax's greatest triumph, when ancient civilizations born of love and beauty, wisdom and reason, turned on one another in hatred and destroyed most of the very earth that had nurtured them. If it were not for the time doors, we would not be here now. Only the ability to move in time enabled any living thing to survive..."

-- from the writings of Lord British
Following on the heels of Ultima's astounding success, Richard Garriott took about two years to complete work on the second game. Mondain, it seems, had a young female apprentice - what self-respecting evil wizard wouldn't? Minax was her name, and her revenge for her mentor's death was the destruction of the entire world. Or almost: a series of breaches in the timestream gives the player one shot to travel back in time, find Minax, and defeat her, hopefully undoing all she had wrought in the process. Garriott would up signing with Sierra Online to distribute Ultima II, because they were the only company that would agree to his idea to include a cloth map with every copy of the game. Later, though, Richard and then Origin would have problems with Sierra trying to obtain publishing rights for this title. In the end, Ultima II became the only game of the first trilogy that was never independently re-released, leading to its being very rare today.